We are discussing the Tech Trends for 2016. Stick around to see what made it to the list.
Technology has had massive paradigm shifts over the past few years and the trend will continue to grow over the next 3-4 years. This post aims to identify and discuss on some existing Tech trends that will finally shape up in 2016 and also identify newer Tech trends that we have seen in the industry as of recently. Only time will tell what really happens…
Cloud is the KING – as if it wasn't already
We knew it was coming. People kept on denying it, until it got too hard to deny it. Cloud Computing is here and it is here to stay. With companies like Amazon and Microsoft strengthening their offerings on a near daily basis, and the likes of IBM and Google investing huge amounts of talent and expertise in polishing up their infrastructure, there's going to be very little room for competition for anyone else. In fact, I think there's going to be a significant play on pricing among these big 4 to win over customers.
From our experience, Microsoft has an upper edge when it comes to on-boarding large enterprises while Amazon still remains a favorite among start-ups. A lot of startups we work with are totally blown away by the recent Microsoft Azure Infrastructure, not to mention the super sexy Dashboards. Amazon could learn a thing or two from Microsoft there. The Amazon Dashboard's UX or the lack thereof is one of the largest contributing factors for us choosing Microsoft everything else considered equal.
Irrespective of who you choose, one thing is for sure, Cloud Computing will finally cement itself as the de-facto approach for everyone moving forward.
AI is going to take over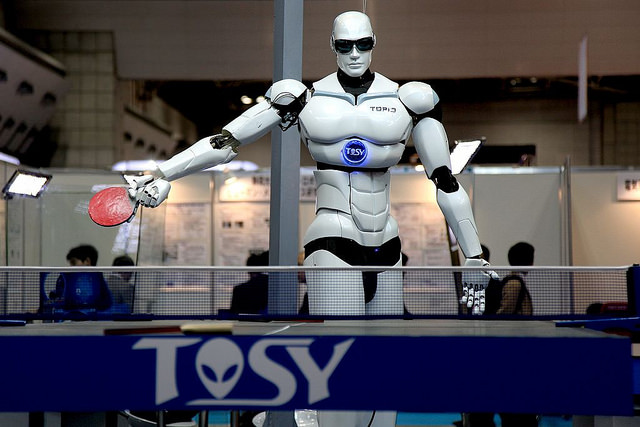 Taken from Creative Commons
Elon Musk and other pioneers are investing in upwards of Billions in the AI industry. Siri, Cortana and Google Now were just the beginning of the AI explosion. Almost every device you interact with is amassing ginormous amounts of data on a near-second basis. This data will be crunched through numerous algorithms in real-time and profiled to make instant decisions on your behalf. Mark Zuckerberg's personal goal in 2016 is to program his own personal assistant! From driverless cars, to decision making systems and bots, AI will finally take over every single computing system there is around. For proof, just look at the amount of space dedicated to AI bots and cars at the CES.
The Year Of Connected Cars
Yes. This will be the year where tremendous progress will be made in autonomous as well as connected cars. Extensive research has been done on this topic so we won't write too much about it yet. Head to TechCrunch to read about this.
The Scarcity of Data Scientists Will Push For More Innovation
Looking for a good Data Scientist? Join the club. You're not the only one. With the explosion of data arrives the demand to trend it. Enterprises like Amazon have built their fortunes mining data and fine-tuning their e-commerce sites based on your likes/dislikes. These algorithms and analyses are attributed to Data Scientists who are constantly writing programs and algorithms to crunch numbers to arrive at trends and patterns. However, the market for Data Scientists is so high in demand that it has created a scarcity.This need for data scientists, and the lack of resources to fulfill it will drive innovation through the roof.
Machine Learning systems are already performing simple data analysis on your behalf. Don't believe it? Look no further. Hop over to Azure Machine Learning or Amazon's Predictive Analytics and you will notice a fair amount of automation. However, this envelope will be pushed further in 2016. Companies like Skytree are uniquely positioned to take Data Scientist automation to the next level. Watch out for this space. Guaranteed to grow 10-15x in 2016. In fact, HyperTrends is aggressively pursuing Data Science Automation as an prime offering in 2016.
Enterprises are going to have to build APIs very quickly, or risk losing out completely
Enterprises are struggling hard to keep up with the pace at which technology has grown. If you, like many of our customers were caught blind-sided by the Mobile or the API explosion, you're not alone. 80% of Enterprises still have a lot of catching up to do.
Security, Bring-Your-Own-Mobile Devices (BYOM), ability to interconnect Enterprise Applications, Enterprise Mobility are all areas that are heating up. Okta and Microsoft's Azure Active Directory are the dominant players in the Enterprise Security space. BYOM management tools like Airwatch are making it easier to allow enterprise mobility.
However, Enterprises are still way behind in exposing their core functionalities via APIs/Web Services. Why is this so important? Amazon didn't build out AWS as a product to sell, it was an internal product that was later converted into a service offering. Likewise, Amazon also turned their shipping/drop shipping functionality into a white-labeled shipping system via APIs.
Businesses can literally quadruple their revenue if they expose core components of their systems to the outside world via APIs. The API economy is booming and will grow bigger and better in 2016.
Concierge/White-Glove Services Will Continue Growing
This is a seemingly new trend and has gone a little unnoticed until now. We strongly feel that as the industry moves to mobile commerce/e-commerce and stores/malls become less relevant, white-glove or concierge type services will soon gain tremendous prominence.
There's a significant demographic that was used to purchasing things from stores that is now online and needs certain decision making assistance when purchasing goods online. We strongly feel that the "emotional" aspect of a customer's buying process isn't being satisfied by existing e-commerce systems, except maybe by Amazon Prime which gives you instant gratification unlike any other vendor we have seen. The numbers show it, people are very likely to use Amazon Prime because of the personalized feeling they get with it. Competitors like Target, Walmart, Best Buy and other such giants are left scratching their heads while Amazon cannibalizes their sales.
We think that e-commerce market can be capitalized with Concierge style support and the ability to provide a "personal assistant" who guides users through their shopping process based on their likes/dislikes, and provide recommendations in real-time/socially connected if possible and personalize the checkout process and provide instant gratification just like an amazing sales rep at Nordstorm would. The feel-good aspect of shopping at Nordstorm needs to be converted into an e-commerce process somehow.
Few apps like Headout are already trying to doing so, but there's still a significant room for improvement and a huge gap in many industries that needs to be fulfilled soon. Amazon crushes it when it comes to retail, but we're forgetting Travel, Finance, Healthcare (think personalized health recommendations), Food (diet/meal recommendations) etc. the sky is the limit. If this doesn't catch up in 2016, it will do so very quickly in the near future.
The Apple Watch MAY NOT make that big a stride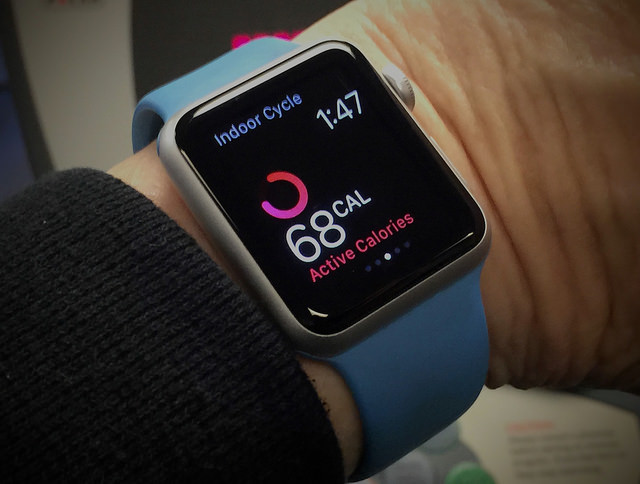 From Creative Commons
We'd love to be proven wrong on this one. We have looked at the Apple Watch, and while we love it, and build apps on it, it still has a lot to be desired. We think that Apple's playing it very safe (and rightly so) in this space. It has made some interesting acquisitions which make us believe that it is working on something big, but to translate a device like watch into an intrinsic part of our lives in such a short time span is wishful thinking. Only time will tell if Apple was on to something or not. As of yet, our rating on the watch is just a MEH. A lot of people might disagree, but this space is very nascent and may very well be for most part of 2016.
There's a lot more that we've left out. Maybe we will follow up with yet another post soon! Feel free to let us know what you think.